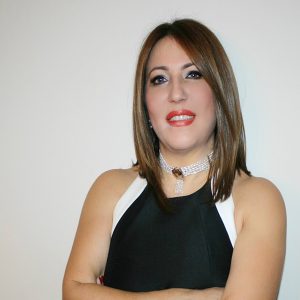 Arminé Manukyan
Principal
Arminé Manukyan was born in Armenia into a family of educators, and has had a passion for education her entire life. She graduated from Yerevan State University with a Master's Degree in Education and Human Development, and received her second Master's Degree in Educational Leadership and Administration from UMASS Boston. She is also a licensed Principal with the MA Department of Education. Arminé became the Principal of the Erebuni Armenian School in 2008, after volunteering for many years as a teacher. While teaching, she sets high expectations for the students; she challenged them and created a positive atmosphere to make learning more fun. Arminé is a strong advocate of strengthening student-teacher-parent relations.
She has many years of educational leadership expertise and business acumen.
Ms. Manukyan's work has been multi-faceted and student centered from the start. Her experiences as an educator, have led to the development of methods that serve to inspire and motivate students and teachers in classrooms, and beyond toward community collaboration.
She has written 3 textbooks which are being used by the teachers.
She always knew that she has passion and love for education, and working in Winchester School District helped her fall in love with school leadership. She realized once again where her heart is.
Ms. Manukyan knows every single student by first and last name. She believes that it's a real positive, personal way to connect with the students.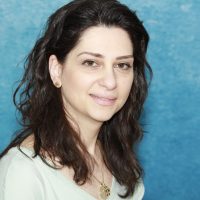 Alina Khudaverdyan
Teacher
I earned my Bachelor's degree from Yerevan Brusov State University of Languages and Social Sciences. I have 8 years of teaching experience in Armenia and US. And I began at Erebuni Armenian School in 2011. I had my internship and gained my practical experience in Yeghishe. Charents School in Yerevan, where I used to teach English. Also, I provided English private classes in Armenia, and I provide Armenian private classes in the US.
My goal as a teacher is to provide a safe and developmentally appropriate atmosphere for all students, attend to children's basic needs, create safe and nurturing learning environment, organize and lead activities such as arts and crafts, reading, singing, and dancing, care about my students by forming personal connections with them beyond the lessons I teach in the classroom.
My greatest role is to be a role model: to inspire and encourage my students to strive for greatness (despite their age), and teach them through experience and commitment how to realize their full potential to become the best they can be.
I love seeing the children's individual development grow and blossom into unique personalities. Children are always eager to learn new challenges and I like to grow with them.
I am a mother of 2 kids, which is my most important and responsible role of my life,  and I work in teaching/education field because of my love for children. My favorite things to do with the children are reading to them, art, science, outdoor play.
I enjoy cooking, shopping and traveling with my family.
"A great teacher can leave an indelible mark that lasts a lifetime, and for many of us, some of our most important decisions were inspired by our teachers".
— Alina Khudaverdyan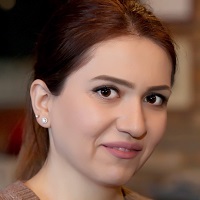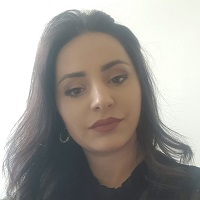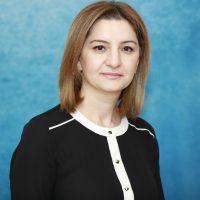 I studied at the Yerevan State Pedagogical University, Faculty of Preschool Education. I used to be a substitute teacher in Armenia, maintaining a positive learning atmosphere in the classroom. My teaching passion I inherited from my mom, who has been a teacher for about 39 years.
I joined the Erebuni Armenian School in 2010.
My first goals include: to establish a welcoming and supportive learning environment; to help children develop self-confidence and identity that positively relates to their families and our culture; to develop independent learners who have a love of learning. It's a wonderful blessing for me to see our children grow and bloom throughout the years as we follow them through their school days.
As a teacher I have an objective of teaching basic reading and writing skills to my students. This involves identifying and learning sight words, recognizing letters and sounds, and providing instruction through matching and sorting exercises and games. By the end of the school year, students should be able to read aloud from age and reading-level appropriate books and materials.
I take my job seriously and work hard to keep my students interested in learning. And as they say, teaching is the one profession that creates all other professions.
My oldest daughter has graduated from Erebuni School and my other daughter still attends. My hobbies include cooking, shopping and traveling.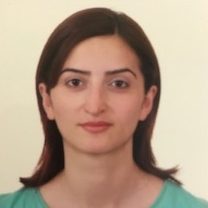 Azatuhi Markarian
Music Teacher
I was born in Armenia, where I lived my lovely childhood. Music has always been my passion and I was always surrounded with artists and musicians. I received my musical education at Yerevan Aslamazian Musical School.
In 2000, I graduated Yerevan Brusov State University of Languages and Social Sciences and moved to Lebanon, where I continued my musical education at Lebanese National Higher Conservatory of Music. I worked as a piano teacher for a while in one of the musical centers in Beirut, then in 2004 I worked as a music teacher at Armenian "Haratch" National School in Ainjar, Lebanon. I was teaching music to elementary grade students, leading a chorus, organizing school cultural activities and performances…
In 2011 I moved to Boston with my family. Currently I work at Dana Farber Cancer Institute as a Revenue Integrity Specialist and, also I am the organist of the St. James Church.
I am married and have three kids with whom I like to spend my spare time by visiting museums, classic concerts or events, parks or other attractions…
"My goal is to teach Armenian music to the students and make them love our language, culture, national songs and traditions…".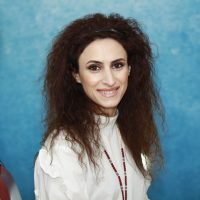 I have graduated from the Yerevan State University, Faculty of Romance-Germanic, English lang. department. I did my internship with the students in 5th and 7th grades and that was my first experience working with kids. After graduating, I started working in National Centre for Vocational Education and Training Development /NCVETD/ of the National Institute of Education of the Ministry of Education and Science of the Republic of Armenia. During my working years I conducted the training of the pedagogical staff of preliminary (craftsmanship) and vocational educational institutions on "Organization and Implementation of Learning Process with Competency Based Modular Curricula". I was one of the authors of Competency Based National Educational Standards and one of the organizers of the Olympiad 2011 for the students of vocational educational institutions. I was actively involved in formal and informal education related workshops, paper developing procedures.
I have been living in Boston  since 2013. Teaching at Erebuni School is a great opportunity for me, firstly, to educate an Armenian generation living abroad and, secondly, to discover my potential created during different periods of life experience. My main goal will be with combining my professional knowledge and modern interactive teaching methods to promote students in obtaining Armenian education and maintaining national identity.
I am married and have 2 daughters. My hobbies are: reading, self-developing, involving myself in active projects, organizing work-related events, parties, exploring and implementing new ideas.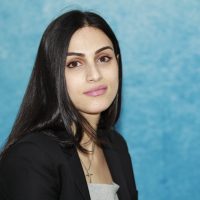 I was born in Yerevan. I graduated from the Yerevan State University with a Bachelor's Degree in Philology in the field of translation studies: French and Armenian languages. After graduation, I continued my education at the International Scientific Educational Center of National Academy of Sciences of Armenia (NAS). I graduated from Department of Psychology with honors and received my Master's Degree in Psychology.  While in NAS, I did my internship at Stress Center, and I worked in the school with hyperactive and difficult students. I'm also certified in providing first aid and CPR.
I want to work with kids because they are real and I love them, they know how to love unconditionally. I wish that the kids lived in a world of beauty, games, stories, music and art. I'll develop their creativity, hard work and patience.  We will focus on interactive and hands-on activities in our classroom.
I'll teach them to communicate, make friends, and learn to respect people.  I really enjoy reading and cooking. I'm very interested in ancient architecture and can spend hours reading and researching about it.
If you have any questions, concerns that you would like to share with me, please contact me.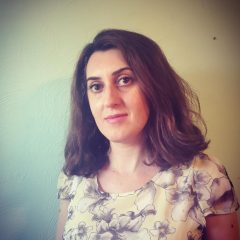 Susanna Atanesyan
Teacher
I was born in Armenia. I have graduated from Yerevan State Pedagogical University, Faculty of History. After graduation, I worked as a History Teacher for 3 years in Armenia.
I don't have kids but I love and enjoy working with them. All of my lessons had two elements. I use the "Understanding" format that involves this question: What will my students be able to do at the end of this lesson and how will they demonstrate their skills?
I have tried to make them happy and instill a love for learning. I think if you want to teach kids to do something, you should do it with them, and spark a child's interest in a topic.
I am very excited to be a part of Erebuni Armenian School, and hope to positively influence all my students to love learning.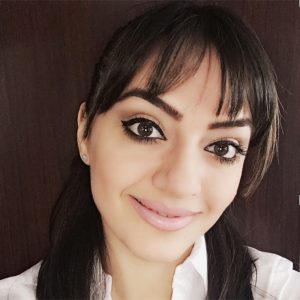 I am a graduate of Yerevan State Linguistic University named after Valery Bryusov (Romance-Germanic Faculty)
I have gained my teaching experience doing my practicum at the public schools in Yerevan.
I am delighted to be a part of  Erebuni Armenian School to teach our students about the Armenian language, literature and history.
I love working with people, especially with kids. I come from a family of educators: my grandmother was a teacher of Armenian Language and Literature, my dad is an engineer, my mom is a biochemist and my sister is a linguist. I love and enjoy being a parent. I love the nature, love my community and I love to recite Armenian Poetry.
I have one daughter.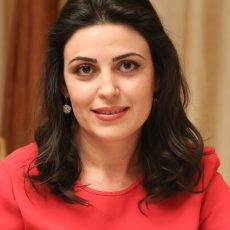 Mariam Karapetyan
Teacher
I am a Speech Pathologist, and prior to coming to the US, I worked as a teacher at a local school where I lived in Armenia. In addition to working at school, I provided speech and language aid to individual students who needed the services.
Coming from a family of teachers, contributed to my decision to become a teacher.
I have earned a Bachelor of Arts in Education at the Armenian State Pedagogical University.
I am married and have two children. I enjoy spending time with my family, cooking and reading. I have a passion working with kids, therefore, I am excited to join Erebuni Armenian School.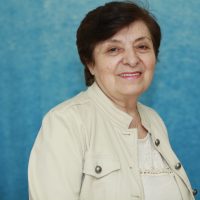 Nelli Harutyunyan
Teacher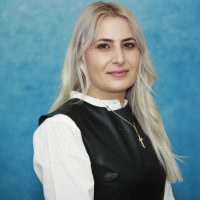 My name is Olga Shahbazyan. I am delighted to be part of the St. James Erebuni Armenian School.
I was born and raised in Yerevan, Armenia. After graduating the high school, I decided to study languages, mainly English, Russian and German. I have a Bachelor's Degree in Languages and Social Sciences and graduated with High Honors. I started working with kids while doing my internship in some of the public schools of Armenia. Throughout my college years I started tutoring kids and after graduating had the privilege to have a few private students who were interested in learning English. I moved to Boston in 2005.
When my daughter started attending the the St.James Erebuni Armenian School I felt like I had to help the school in some kind of a way. Moreover, I wanted to give back to the community and be part of it. Started as a substitute teacher and loved it, since I had the chance to teach pretty much all the grades. I love working with these amazing and talented students since I get to see how they start without even knowing the Armenian letters and later they are ready to graduate the school knowing so much about their language, their heritage, history and motherland. Being a teacher is not an easy job! You have to be a role model for them and you have to show your own passion towards your history and culture so you can inspire them. My goal is to try and help them grow into loving our mother language, our rich history, customs, and be proud members of the Armenian community. It takes time and a lot of effort to implant the first "seeds" and watch them "grow" but the outcome is what we work so hard for.
I am a mother of two kids who are also students in this amazing school. I spend my free time with my family and friends. My hobbies are reading, dancing, going to the beach on beautiful summer days and enjoying life. I love traveling and experiencing different cultures, their food and customs.
I feel blessed to have the opportunity to teach such a beautiful and talented generation of kids and I am hoping that one day some of these amazing students will come back to Erebuni School as teachers themselves.